PRINCIA MATUNGULU
NOUVEAUX MÉMOIRE, VIEUX PAGNE
(NEW MEMORY, OLD CLOTH)
"If Africans do not tell their own
stories, Africa will soon disappear"
-Osumane Sembene
Une épée et une oreillers

The book and the collection of works in this book* was made in constant verbal collaboration and communcation with my mother.
To my mother,
Ma mère,
My rock
Mukadji wa tshitembo,
Thank you.
Merci.
Tuasakidjila.
MY MOTHER ONCE TOLD ME A STORY
My mother once told me a story
My mother said her mother told her this story because her mother also told her
She said " Hadithi njo..."
Which is a swahilli phrase you say before telling a story
I said "Njo Hadithi"
My mother said
There once lived a woman in the upper regions of Congo
She was well aged in life but no husband or children – things that does not present well if you wish to be seen as having a successful life in the African culture
Bantu bari mu shikiriya buluma sana
A woman without husband or child is not a woman life worth anything
Kila siku
When she would would come back from the river
After having fetched water and gathered wood
She would see the children of baMamabo bengine
And wish if she could have her own
One day
She met a strange man on her way back
Kamfwiifwii
Who said
He knew
What she was feeling;
The pain, the suffering
To be alive but to feel dead
Aibu yake na matatiso yote
Akamwambia
kwamba angeweza kumpata mtoto
But first
She had to
Lamba mwili wake wote
Infested with leprosy
And
She did
In hopes of having a child of her own
Mtoto mwanamke
That was her preference
A child to make her life worth living
To be counted amongst other women;
Mukaji wa tshitembo – strong.
Kamfwiifwii did as he promised
Gave her a child
A girl child – taken out of a tree
On one condition that she never gets wet
She was "mtoto wa bongo" as the other villagers called her
Made out of mchanga and udongo
So, she would simply melt
The child
As beautiful as her name, Acacia.
The child
Grew up to be a young lady
And her mother, a proud woman
But eager to live a life as her friends do,
The child
Decided to play in the mutoni with her friends
after fetching water for her mother
The longer she stayed
The more she melted
Her friends, frightened
Ran and left her to melt
Completely.
Her mother, like any mother
Mourned her death
But the other woman in the village thought
You can't mourn a life that wasn't really lived
You cant lose a life that wasn't one to begin
with
After all
Acacia
Ari kuya mtoto wa bongo
Made out of mchanga and udongo
KILLELA BALENDA
a place where children where
Children
In Congo, Kivu
My mother's summer place
Summer camp
Summer home
Batoto ku cheza
Batoto kuimba
Wearing skirts made of nsaka
We were children, being children
Dancing to songs of Salema
Killela balenda
My mother said
Killela Balanda, 2020.
Digital Image
NOUS NOUS SOMMES (PAS) DES ANGLOPHONES (THE GAP)
If I could
Recall
The many times my mother
Snapped
At my siblings and I that
Nous sommes pas des Anglophone,
I would
Retell
It was during a car ride
During petit déjeuner
Pendant le lunch
Or dinner
We could speak English amongst ourselves
But to them
Our parents
No
Nous, nous sommes pas des Anglophone
parler n'est pas le problème
We were taught to speak French
It is the gap
Not only anglophone-francophone
The gap between my mother and I
Les francophone nés parlent pas beaucoup
Les francophone Africans ;
Pas de tout
At least about such things
Things that are 'taboo'
Is the gap
The bridge
The space
The weight
The friction
Between us
Ma mère et moi
Nous nous sommes pas des Anglophone (The Gap) I,
2020 Digital image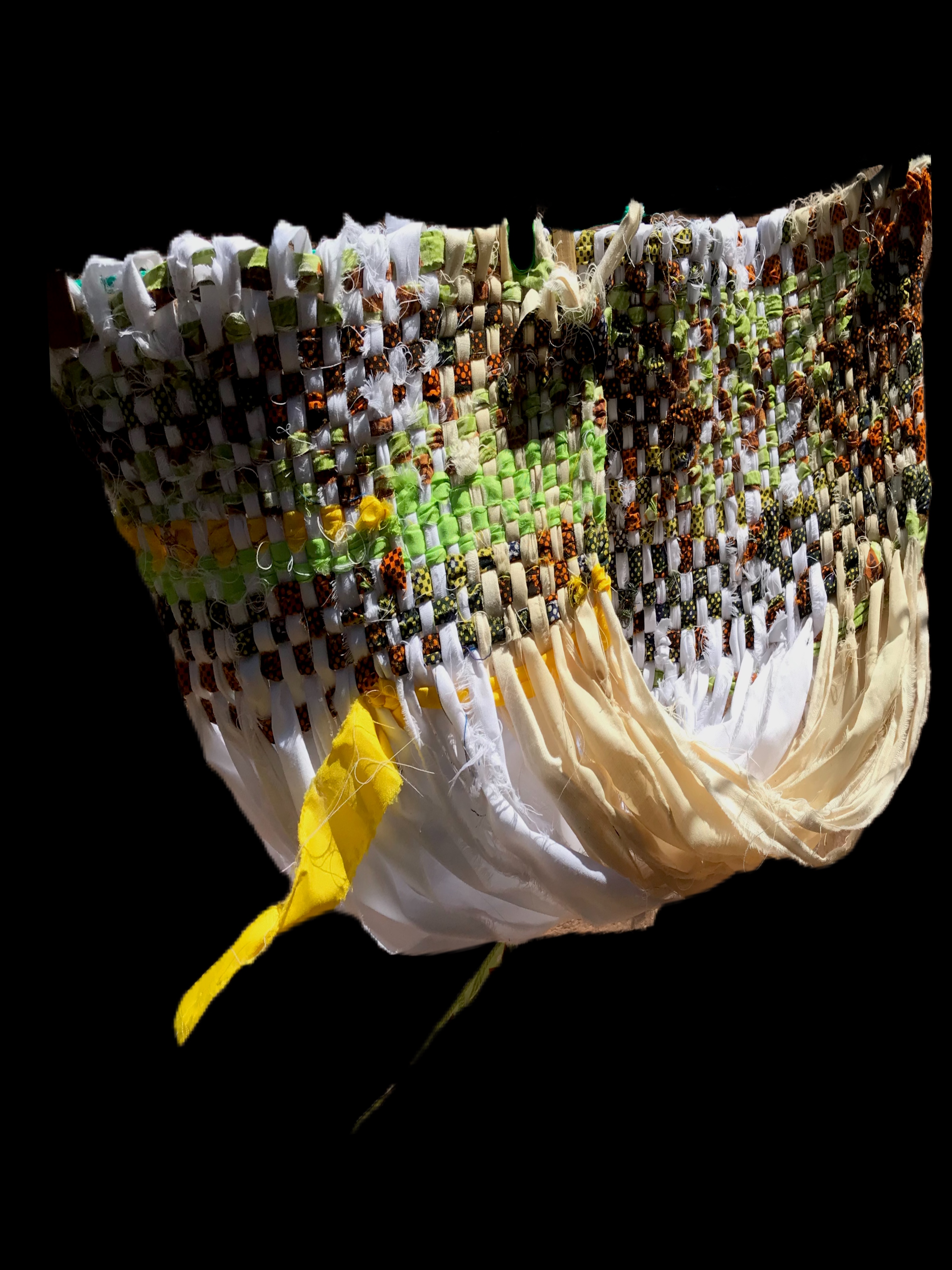 Nous nous sommes pas des Anglophone (The Gap) II,
2020 Digital image

L'AVENIR EST SOMBRE- MARIAGE
Bukweri abonna teketeke
Lakini
lazima kwanza uiingie
sio maua nyekundu kila wakati
au lace nyeupe
mara nyingine
bado ni nzuri
lakini nzito machoni
kama lace nyeusi
sipendi lace nyeusi
L'avenir est Sombre – Mariage,
2020 Digital image
PAGNE VOYAGER
December
2002
Illegally entering the borders
Of South Africa
After having walked through
The scorching heat of the forests
The dry planes of the land
And bus hopping
One after another
My mother
Could feel the wax of
Her Hollandais Wax P110WJ56 print
Grappling around her legs
Mafutha ina sungurika
Right down to her feet
Struggling to keep hold of her troieme pagne
And the grip of her children
She holds onto both for dear life ;
Her crown and Her glory
The mundola and The children
Pagne Voyager, 2020
Digital image
YANGU MUNDOLA
I remember the first time I watched a pageant with my mother
I was young , et mes cheveux un product
My mother came by and sat next to me
"Bintu bia nje bile"
She asked
"The most beautiful and socially correct woman wins. Après cela, elle coroner"
With her chest, my mom said
Black Women Wear crowns all the time.
"Miundula ayina teke-teke
Ni puissance ma kichwa"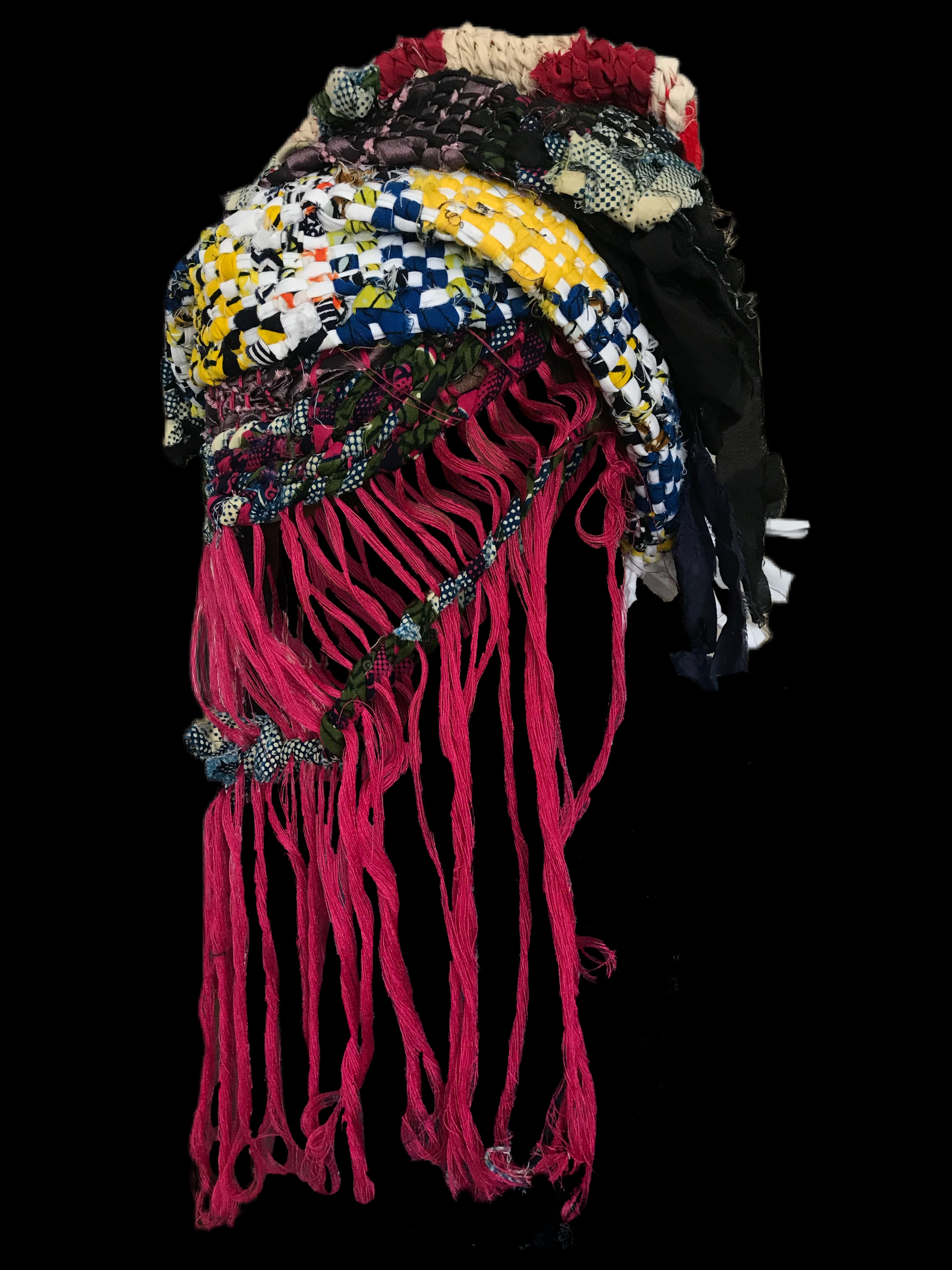 Vierge Lobola I, 2020
Digital image


Vierge Lobola II, 2020
Digital image
VIERGE LOBOLA
$4000

2 Mbuzi

2 Suti ya Baba

2 Shati la Baba

2 Viatu Rasmi vya Baba

2 Viatu Rasmi vya Mama

1 Begi la Mama

1 20l Mafuta ya mawese

1 20l Mafuta alizeti

1 50kg Unga

TEL MÈRE TEL FIL
Je suis la photocopie de ma mère
Her child
Her daughter
Her eyes
And wit
C'est elle que je vois quand
Je me regarde dans le
Miroir
But also
I am not
Niko miye
It is I
And Mother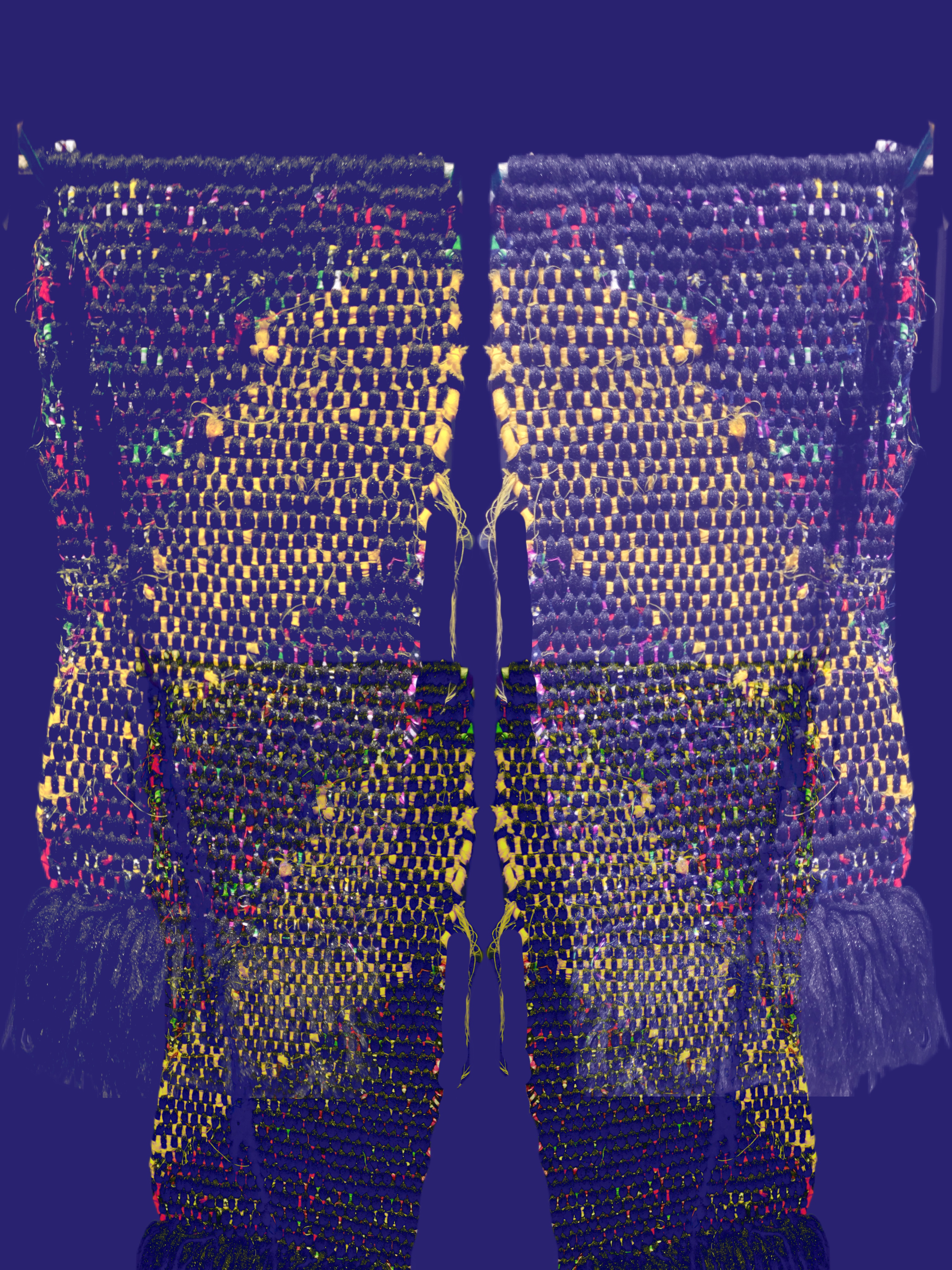 Tel mère Tel fil, 2020
Digital image
VIRGINITÉ UN TACTE
Garde ta virginité
Garde ta virginité
Garde ta virginité
Garde
Virginité
Ta
Pourquoi?
Pourquoi pas?
Et les garçons
Non plus?
POURQUOI
POURQUOI
POURQUOI
Virginité Intacte, 2020
Digital image
Virginité Intacte, 2020
Digital image
NOUVEAUX MÉMOIRE, VIEUX PAGNE
---
ABOUT THE ARTIST
Princia Matungulu is a Congolese artist, currently completing her degree in Fine Arts at the University of the Witwatersrand. With the only ties to her birthplace being oral histories and African cloths passed down by her mother, Matungulu's practice engages with these histories and materiality through the intricacy of the weaving process. The resulting sculptures bear records of a personal and imagined history.